I realized that I need to put an updated link to my Zazzle store up on this site. I am in the process of shifting my newest products from my old store to a handful of more organized new stores. So, here's what I've got so far:
www.zazzle.com/ninjahijinx* – my current main Zazzle store, featuring tons of my art on cards, stickers, apparel, mugs, and fun stuff like the giant dragon poster that hangs on the door of my shop.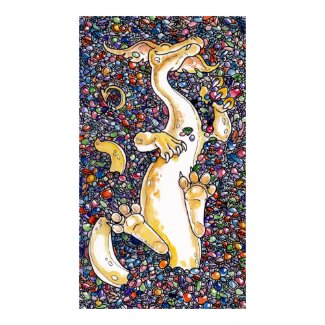 Dragon's Hoard 2 Poster
by
ninjahijinx
Look for more
office art
at zazzle.com
www.zazzle.com/myfavoriteanimal* – this is a new store of mine, where I'll be stocking art featuring animals alive and extinct.
www.zazzle.com/brownbaggames* – this store has products featuring artwork from my board game collaborations with Brown Bag Games
Zazzle is an awesome site that prints artwork on all manner of products. You can upload your own art or photos, either to purchase yourself, or to offer for sale. Or, you can shop literally millions of designs in the marketplace. You can customize many marketplace items with your own text or photos. It's pretty cool, and you should check it out!
The * at the end of zazzle urls, by the way, makes the address into an affiliate link, and then the creator gets an additional percentage of your purchase at no additional cost to you. If you are buying products from any artist on Zazzle, I recommend typing in their store url with the * before your purchase – it will make their day! 😀